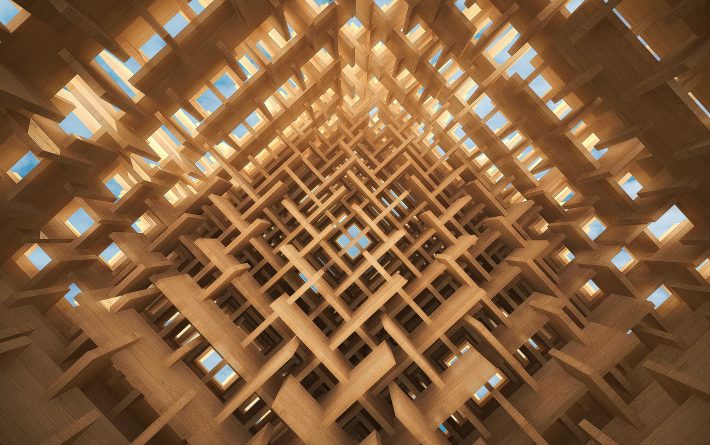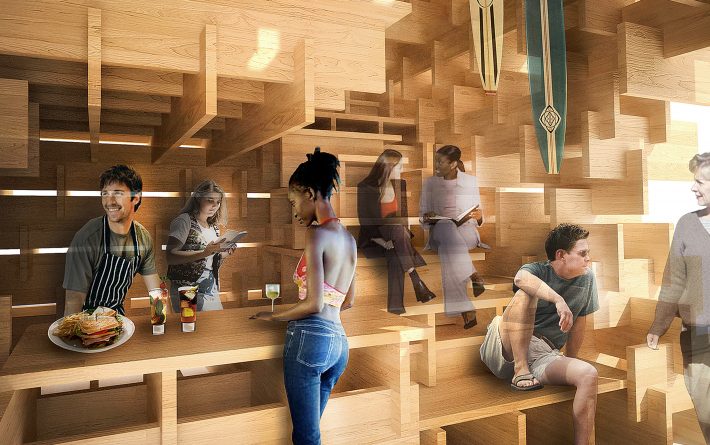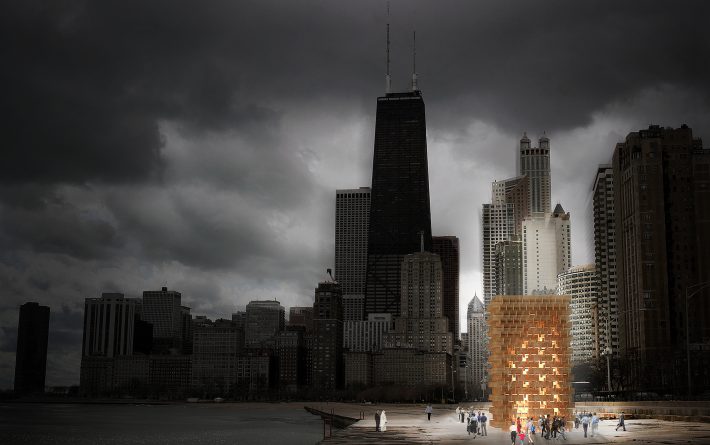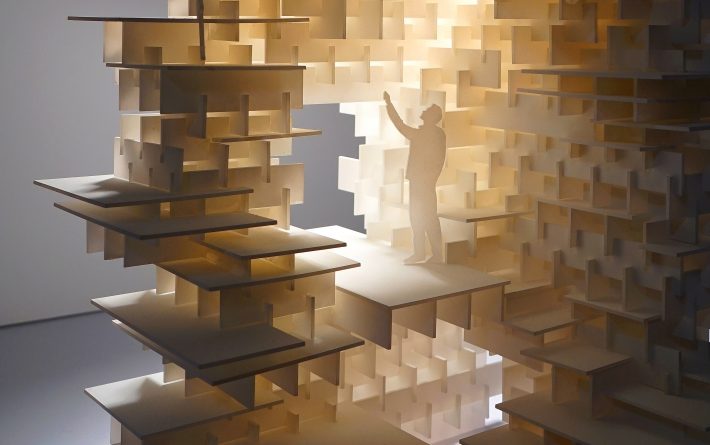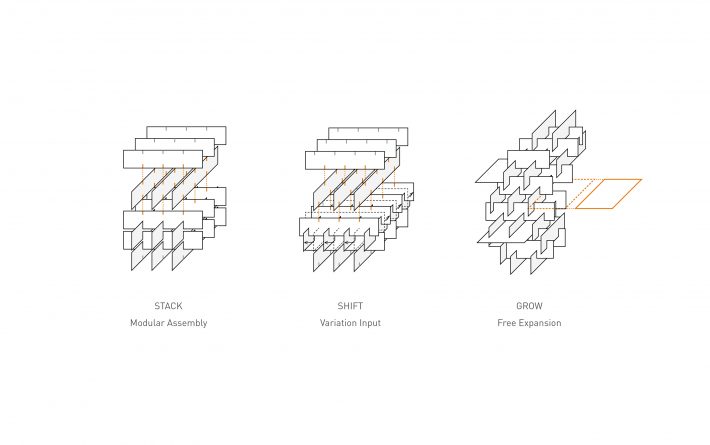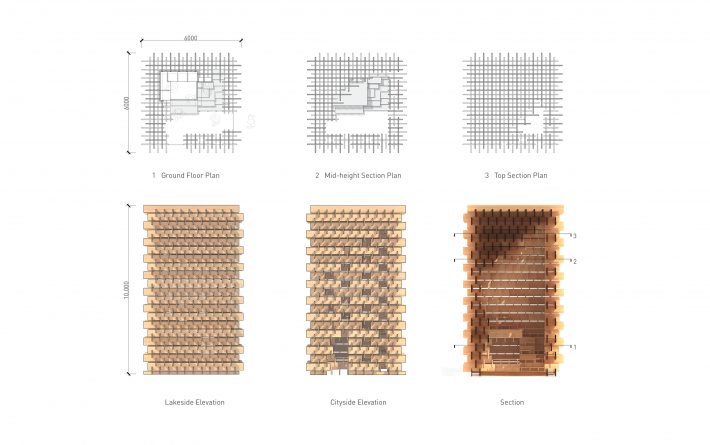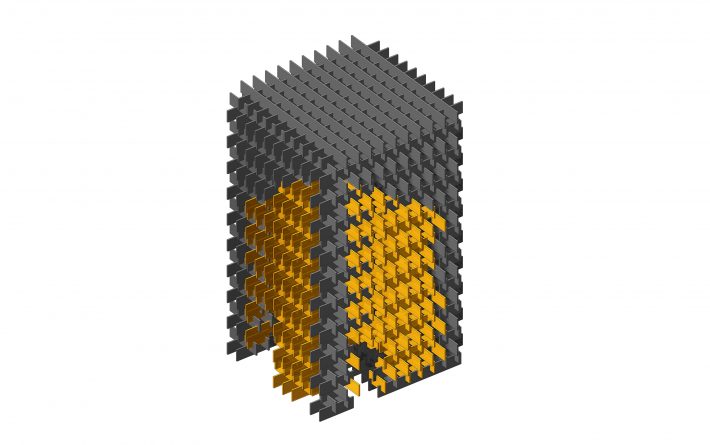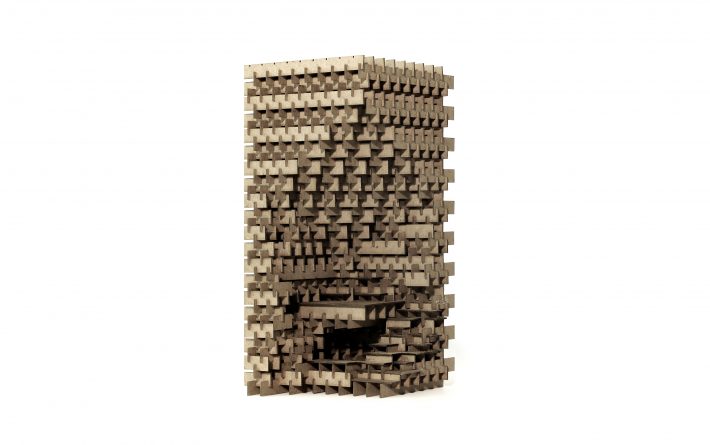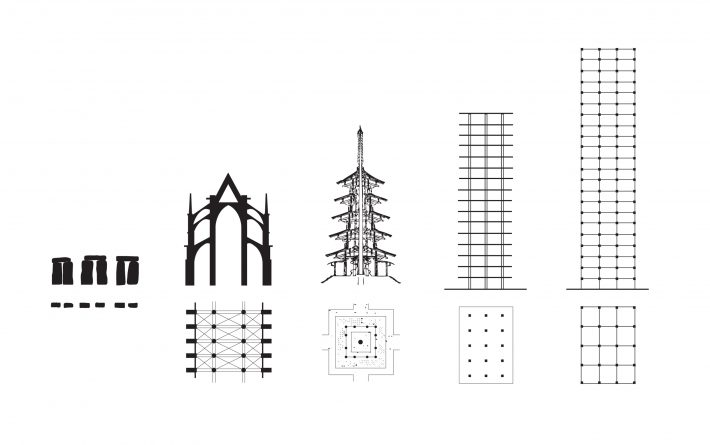 Proposed as an entry into the Chicago Lakefront Kiosk competition, this project celebrates Chicago's role in the development of modern architecture and also connects to architectural history. Link-Arc's proposal is based on a simple notched and stacked wood module, which references historic construction while allowing for design flexibility. The team maximized the possibilities of this system by combining the stacked wood modules with horizontal planar elements to create a unified language that could accommodate all functional and spatial needs.
The stacked wood modules are combined into a simple rectangular volume that references the silhouettes of the iconic skyscrapers nearby. Modules are subtracted from this volume to create occupiable interior space within. Locating the prototype on the Lake Michigan waterfront promotes differentiation (front and back) within the larger framework—stacked modules are subtracted to create two open faces along the waterfront and public pathway while the two non-public faces are kept more solid to maintain structural integrity and to provide lateral stability.
The subtracted public space within the volume creates a rich architectural experience. The wood modules create a space that evokes the feeling of being within a forest. This new interior zone extends the public space of the waterfront, and creates a unique and finely textured public space with multiple levels that accommodate changing seasonal uses.
PROJECT INFORMATION
Project Name: Assemblage / Chicago Lakefront Kiosk
Project Location: Chicago, Illinois, USA
Project Area: 270 square feet / 25 square meters
Program: Temporary kiosk with multiple uses including: retail, light food service, and exhibition.
Client: Chicago Architecture Biennial
PROJECT CREDITS
Chief Architect: Yichen Lu
Project Team:  Alban Denic, Dongyul Kim, Hyunjoo Lee