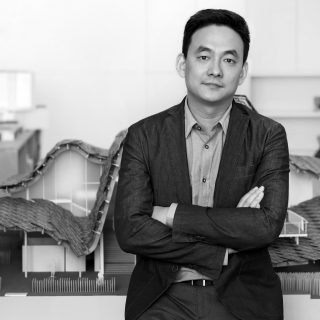 Yichen Lu
Principal
Yichen Lu, Principal of Studio Link-Arc, holds a Master of Architecture from Yale University and a Bachelor of Arts from Tsinghua University in China. He was awarded the Ikuo Hirayama Scholarship in 1999, and was nominated for the 2008 H.I. Feldman Prize for his work in Frank Gehry's Advanced Studio at the Yale School of Architecture. His design project "Planless House in Manhattan" was awarded First Prize in the 2006 Shinkenchiku Residential Design Competition. He received the Iconic Award from the German Design Council in 2014 and 2016, and was one of ten architects '2015 Design Vanguard' winners selected by 'Architectural Record'.
Between 2008 and 2010 Yichen Lu worked as a project architect at Gehry Partners, LLP, where he was responsible for the design of many projects, including the Guggenheim Abu Dhabi. Between 2010 and 2012 he was a project manager at Steven Holl Architects, and managed the firm's many award-winning projects in China. Lu founded Studio Link-Arc in 2012. He served as the Chief Architect for the China Pavilion for Expo Milano 2015. This commission, China's first Expo Pavilion outside its borders, opened in 2015 to international acclaim.
Yichen Lu has been an Associate Professor at Tsinghua University since 2012. In 2016, Lu served as a visiting critic at the Syracuse University School of Architecture and the Politecnico di Milano. In that same year, he was invited to participate in an exhibition and symposium at the Harvard Graduate School of Design titled "Towards a Critical Pragmatism: Contemporary Architecture in China".